Jackson & Una's beautiful litter has arrived! 7/20/23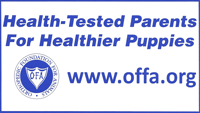 Una, is a beautiful girl with a non-shedding curly fleece, coat. She is 19" tall, and weight 34 lbs. And, is reg with ALAA, OFA (orthopedic foundation America) approved, and health tested. Multigenerational Australian Labradoodle, she is extremely gentle, loving, and lives with her guardian family. Puppies are expected to be in the 25 - 35 lb range. Larger litter than expected, puppies available in this litter.
My Best Doodle Jackson is ALAA Registered!
ALAA- 102037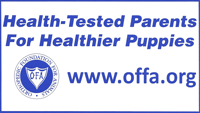 Jackson is the sire, of our new puppies 7/23. He is a lovely red & white color with a relaxed curl, fleece coat, and smaller than Una. About 17" tall, and he weighs about 27lbs. He is friendly towards all people, and other animals. He lives in CT, and we are thrilled to have his puppies. Jackson is a multigenerational Australian Labradoodle.
Autumn Haze's Spooky Una. Expecting puppies July 2023.