Yes, we have puppies! Autumn Haze Labradoodle's L.L.C. Dogs/puppies are registered with the Australian Labradoodle Association of America (A.L.A.A.) And, are Multigenerational Labradoodles. Newmarket, N.H. 603-531-7439 We have two puppies available!
"Rose & Sullie", puppies have arrived! Born 11/15/22. See Photos tab "available puppies now".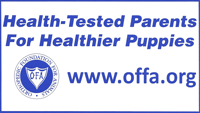 Autumn Haze's Wild Rose
ALAA-056455 call name "Rosie" or "Rose".
Rose is a beautiful girl with a non-shedding curly fleece, coat. And, is reg with ALAA, OFA approved, and health tested. Multigenerational Australian Labradoodle, she is extremely gentle, loving, and lives with us. Puppies are expected to be in the 25 - 35 lb range.
We need more S' moors (Sullie). ALAA Registered!
Sullie belongs to; Spring Valley's We Need S'more (Sullie) ALAA-083904
Sullie weighs 27lbs & is 17" tall
ALAA 083904