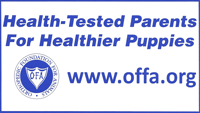 The puppies are from a 21 year line of OFA health certified, Registered, American Australian Labradoodles. No other Labradoodle copy cats can surpass our ALAA reg. dogs. Bred for companionship, service work, and health!
Una's (aka Venice call name) puppies arrived 5/26/22 - 3 girls & 3 boys. Colors are Golden sable, Chocolate sable, and Ebony black/with white. 2 Puppies are available in this litter. If you would like to be matched with one of Una's puppies, please fill out the application. Pups ready to leave 7/22/22.

Puppies are matched by evaluations, & temperament (age 6-7 weeks old) to the person or family. As the breeder owner, I hold a Master social worker degree, and work as a public guardian in N.H. I have over 20 years experience supporting individuals, breeding these amazing dogs, and matching puppy personalities to the proper owners.
We provide top-quality multigenerational Australian Labradoodles for companions that are sound in breeding lines, temperament, socialization, and confirmation.
Puppies will be in the medium weight range 25 - 35 lbs. Puppies are registered with ALAA, Multi generational Australian/American Labradoodles, and DNA'd for generations. We have the highest award available for ALAA breeders.
Photo by Singhatara not to be copied w/o permission.
Please fill out the questionnaire/application, in consideration for one of our puppies:
We are hobby breeders with only one or two breeding females, at a time, and years of no breeding. We have been breeding one family line of registered Labradoodle puppies for the past Twenty years, our dogs are working dogs in the field of social services. We are the first A.L.A.A. approved Labradoodle breeder in N.H., and we are awarded The Gold Paw for breeders. Our foundation stock is health tested and our multi-generational pups will be health guaranteed. We believe Australian/American Labradoodle puppies: particularity our puppies; are quite possibly the worlds, cutest puppies. Thank you for visiting with us. Autumn Haze Labradoodles, Newmarket, N.H. 603-531-7439
autumnhazelabradoodles.com
Singhatara@gmail.com
603-531-7439