Autumn Haze's Wild Rose
ALAA-056455
DOB: 1-21-17


Autumn Haze's Wild Rose & Reese are slated for the next breeding . Next anticipated breeding April/May for a summer litter. Pups will be expected to be long flowing relaxed curl & fleece non-shedding coats. Medium size 25 - 40 lbs. Application required to be considered for the wait list. Information about Reese is on the bottom of this page.
Rose weighs 38lbs, is 21" tall.
Rose is a multi-gen. Australian Labradoodle, her pups will be multi-generational Australian Labradoodles.
Rose's eyes, hips, elbows are all certified with the Orthopedic Foundation (OFA), and she is DNA cleared of 113 genetic disease's.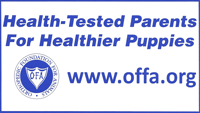 Autumn Haze's Wild Rose is a gorgeous dusty rose Cream, color with apricot markings. Her coat is curly fleece, and feels like silk to the touch. Rose has the sweetest temperament, a pre-seizure alarm dog (not common) & excellent agility movement (for the agility show enthusiast)Rose is medium size, weighing 38 lbs & 21" , Pups expected to be mediums. 25 - 40 lbs. Rose is expected to breed with Reese for this litter.

The Stud boy's belong to our good friend
Michelle Walker -of Waltzing Matilda's Labradoodles
it takes a lot of hard work & coordination to breed by shipping semen. Why
does Michelle help us? For the love of the breed. Michelle enjoys showing everyone Southern Hospitality. Michelle is kind, thoughtful, and generous. We are so grateful to the walkers, and couldn't be happier with their beautiful boys.



Waltzing Matilda's Chocolate Reese's "Reese"
Multigen Australian Labradoodle
ALAA-071862
PennHip - L.50 R.48
OFA Elbows - Negative
OFA Patella, Cardiac Normal
OFA Thyroid - Normal
CERF - Normal
IC, EIC, DM, VWd, PRA clear
Genotype - bbEe
Size - Medium 19"
Weight - 35 lbs