Autumn Haze's Wild Rose "Rosie"
ALAA-056455
DOB: 1-21-17



Autumn Haze's Wild Rose Rose's pups will be expected to be long flowing relaxed curl & fleece non-shedding coats. Medium size 25 - 30 lbs.
" Rosie" weighs 38lbs, is 21" tall.
Rose is a multi-gen. Australian Labradoodle, her pups will be multi-generational Australian Labradoodles.
Rose's eyes, hips, elbows are all certified with the Orthopedic Foundation (OFA), and she is DNA cleared of 113 genetic disease's.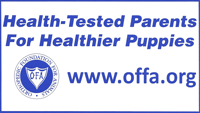 Autumn Haze's Wild Rose is a gorgeous dusty rose Cream, color with apricot markings. Her coat is curly fleece, and feels like silk to the touch. Rose has the sweetest temperament, a pre-seizure alarm dog (not common) & excellent agility movement (for the agility show enthusiast)Rose is medium size, weighing 38 lbs & 21" , Pups expected to be mediums. 25 - 30 lbs. Rose is expected to breed with Sullie for this litter.